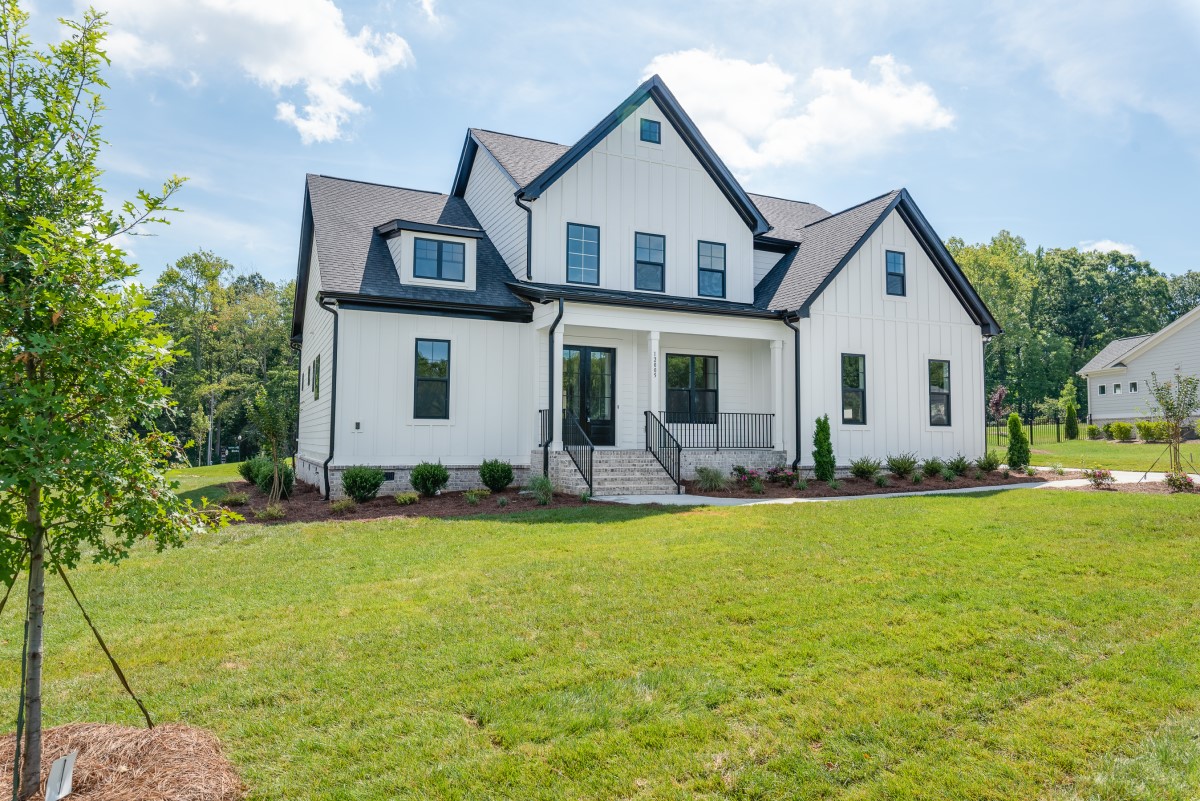 Peachtree Residential recently caught up with Tracey Smith, owner of Rachel Remington Design and frequent consultant on our award-winning homes. We talked with Tracey about the shifts she's currently seeing in exterior home design.
How Often Do Exterior Home Trends Change?
Trends seem to shift every six to seven years. In 2013, when I started focusing on exterior design intensely, we saw a lot of gray houses with white trim. That shifted to neutrals – tawny taupes, balanced beiges without so much yellow. By 2019 and 2020, it's finally starting to change again.
What's Popular Now?
White houses with white trim and white houses with black shutters and doors. On some homes, people are removing the shutters and going with a single color, usually white.
White houses with black, color-blocked areas are also popular. In fact, color-blocked homes are big. We might have a white home then paint a bumped-out or set-out portion of it all black.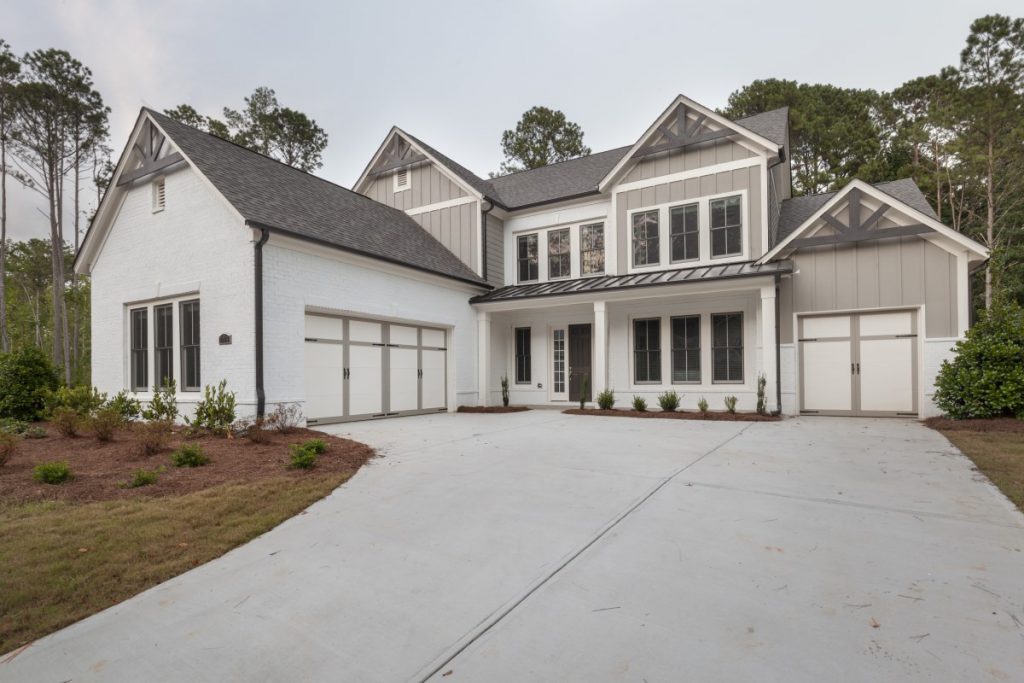 What Are Some Secondary Color Choices, For People Don't Love White?
Secondary trends are greens and blues, but not bright colors, more blue-gray or green-gray. Some homeowners are circling back to gold, too, but this time it's a true gold, not a wheat gold.
The dark house trend is also making its way into Atlanta, so in the not-so-distant future, you may see a black house with lime green shutters.
How Many Colors Do You Typically Use On A Home?
In the past, 80% of the time, we used four colors – trim, siding, shutter, and door. Today, it could be four, but it may be just one, or anywhere in between!
One place I'm adding a color for some homes is the window frame. I might paint them a light grayish color when the rest of the trim is white. This looks good on a stucco home and is similar to the way French homes are painted.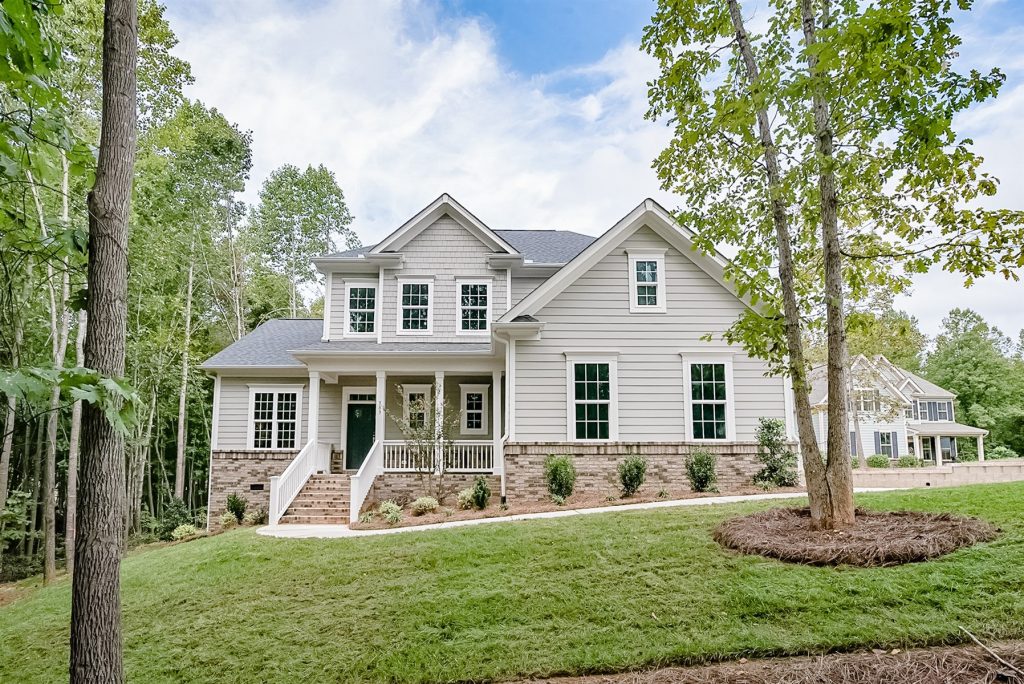 What Are Popular Door Colors?
The color of the front door is probably one of the most important colors on the house because it's often a visitor's first impression. These can be either dark or colorful –about 50 to 60% of the time they are dark.
Sometimes, the trim and front door are painted the same color. This looks great on a brick house. Another stunning choice is to put a yellow, orange or rust colored door on a gray house, depending on whether it's a light, dark or blue-gray.
Wood doors or doors that look like wood are a trend right now. And a personal favorite for me is Sherwin Williams Seal Skin for the front door.
Talk About Gutters And Roof Trends.
Metal roofs on residential homes are huge right now, whether on the entire house or just over the porch or portico. And gutters are typically painted to match the trim, though dark gutters are popular now on European style homes or on black and white farmhouses. They also look good on cabins or dark homes. For European style homes, copper or bronze gutters are another good choice.
Can You Tell Anything About Homeowners Based On The Colors They Use?
Absolutely! I can pretty much tell what someone does for a living and where they're from by the colors they choose for their home. Every time I work with an IT person, they choose a grey. Engineers love blue. Lawyers like white trim, black shutters, and red or black doors. Salespeople typically favor brighter colors. Midwestern people like white or tan, while people from Buffalo tend to incorporate red, white and blue into their exteriors. These are generalities, but I see them pretty often!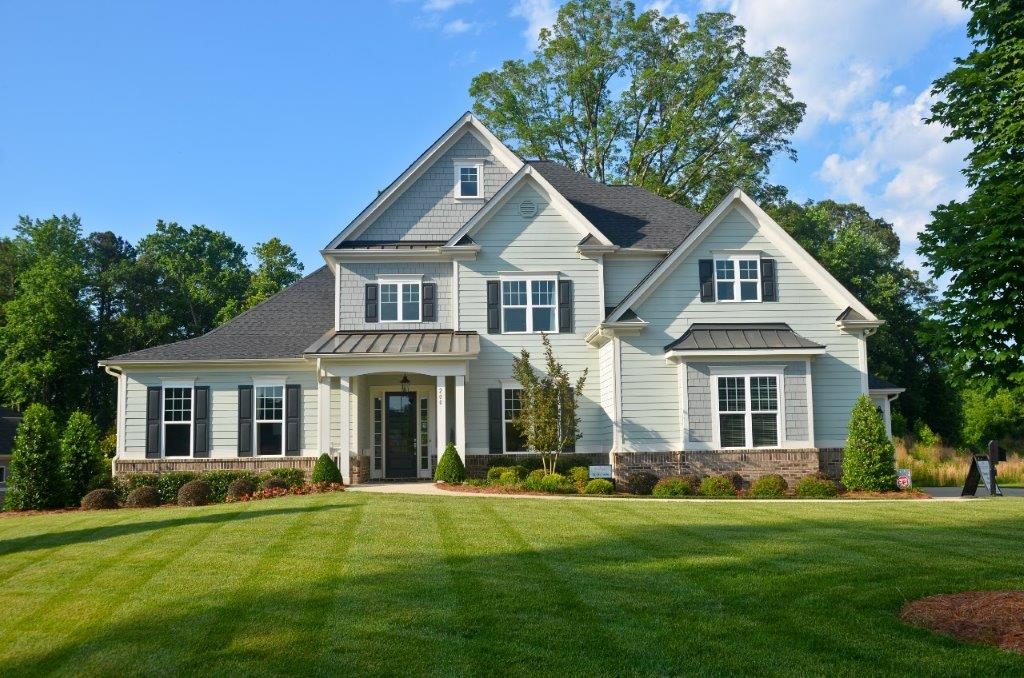 What Kinds Of Updates Are You Seeing On Existing Construction?
People are taking older colonial homes and blocking them out with a horizontal wood stain and two other colors, maybe dark horizontal siding then a board and batten of a light color. I've seen this a lot in Virginia Highland and Dunwoody.
A trend among millennials, especially, is to lime wash brick or stone. Lime wash soaks into the brick and preserves its natural texture, unlike a regular paint that smooths out the surface. For new construction homes, we can even get already painted or lime-washed brick directly from the manufacturer. Some popular choices are Grand Bay, La Costa and Bradford Hall Tutor from North Georgia Brick.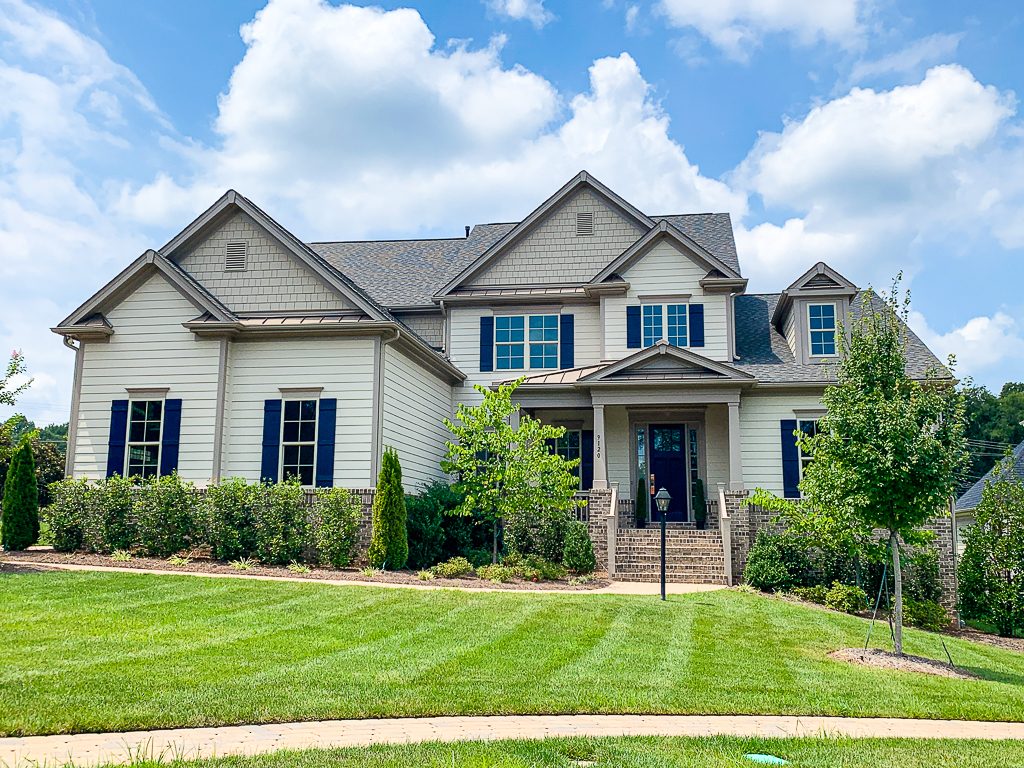 What Can Peachtree Residential Homebuyers Expect To See Different In 2022?
You'll see black and white homes, for sure. You'll also see some blue, whether on shutters, front doors or siding. I expect this trend to continue.
Rachel Remington Design is a full-service interior design firm, working with both newly built homes and renovations. Tracey comments, "Color is my niche, and I work on it a lot for Peachtree Residential and for Exovations. As a firm, we do a lot of window treatments and blinds, plus we sell rugs and lighting. I help a lot of homeowners with furniture placement; tile selections; placement of light switches, receptacles and the like; and overall design. We have a store in Dahlonega, and we service the entire metro area."
09.20.2021