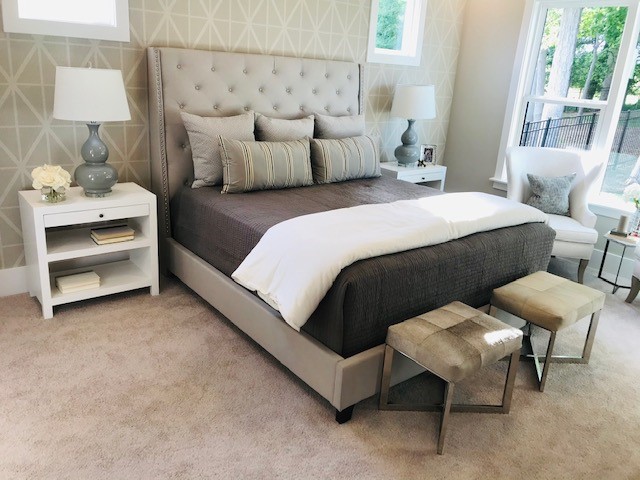 When potential home buyers visit Peachtree Residential's model homes, they're often blown away by the stunning details and hot design trends that make the homes stand out from others they've visited. These details are carefully orchestrated by our professional design team, who follow the most up-to-date trends and also have a real-world understanding of what people actually want and use in their homes.
Kelly Hickman, a Peachtree Residential Design Expert in Charlotte, has worked on many model homes, including the new model in McLean. She also has helped many homebuyers make their personal selections in the Peachtree Residential Design Center.
When asked about current  and hot design trends, Hickman notes that today's homes integrate the traditional look of an old-fashioned farmhouse with the clean lines and open floorplans that have become popular more recently. For example, traditional light or raw wood floors that evoke the feeling of an old homeplace may appear alongside contemporary tiles that cut clean lines and complement the home's modern-day components.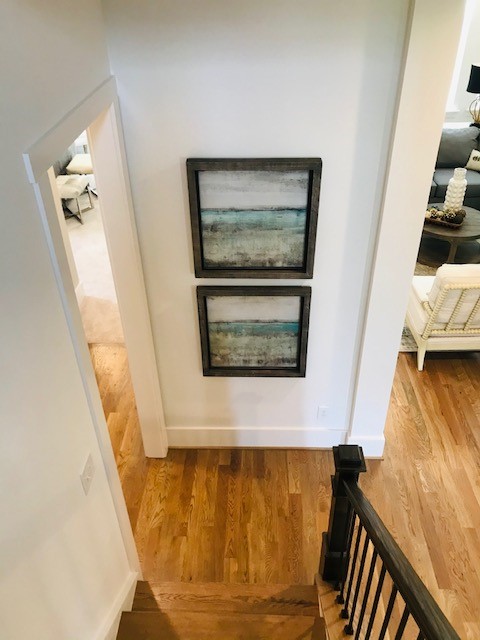 Start at the Bottom with Perfect-for-You Flooring
Hickman notes that most homeowners still choose wood floors in their primary living areas, but they're being more careful to choose the floors that suit their lifestyle best. Lighter colored weathered oak and classic gray, formerly reserved for coastal homes, have overtaken yesterday's darker Jacobian or walnut floors in popularity.
However, site finished floors are no longer seen as the must-have choice. Instead, about 80% of families are selecting luxury pre-engineered planks. Not only are they cost effective compared to site finished, but they also are available in 6- or 8-inch widths. Basically kid-proof, pet-proof and scratch-proof, many have a 30-year or lifetime warranty.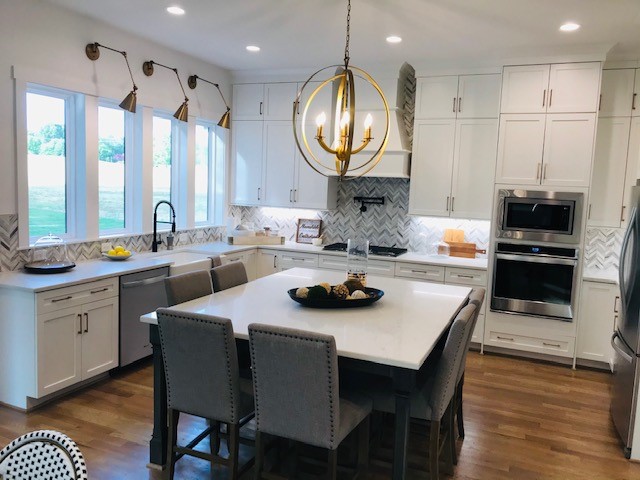 Bring New Life to the Kitchen with Dramatic Backsplashes, Countertops and Appliances
Quartz is rising in popularity for kitchen countertops. Some homeowners are creating a dramatic, high-end feel by running the quartz up the wall as a backsplash and even adding quartz around the island and around perimeter walls, too.
Marble is rising in popularity as a countertop choice, as well. A white, beige or grey base with black or dark grey veining with lots of movement creates a nice complement to matte black metals in light fixtures, hardware and faucets.
For even more drama, some homeowners are moving away from standard stainless steel appliances and choosing unique commercial appliances instead. Installing one appliance in a bold color, such as a navy blue freestanding oven, shakes up the traditional kitchen space by creating a unique focal point.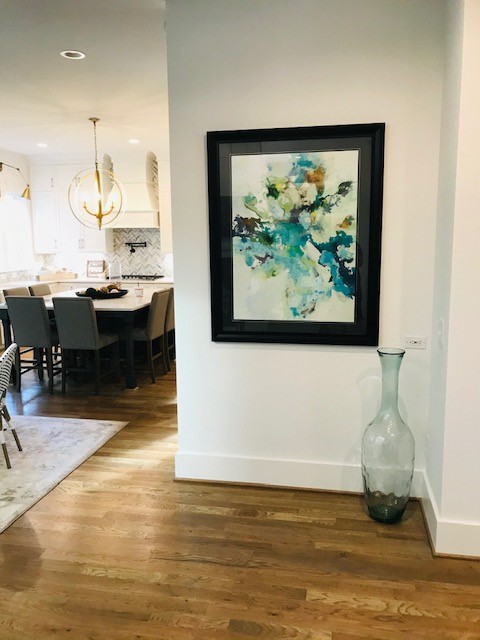 Splash Colors Across a Neutral Backdrop
White walls, white ceilings and white trim are the norm these days. For example, in the Mclean model, Hickman chose Snowbound by Sherwin Williams (SW7004). When white seems too stark, designers and homeowners are selecting neutral oatmeals or greys for the background. The owners' bedroom in the McLean model uses Sherwin Williams Worldly Gray (SW7043) on the walls and Sherwin Williams Intellectual Gray (SW 7045) in the trey ceiling.
Mixing in different metals, textures and colors adds warmth to otherwise cold rooms. One way to achieve this is with wallpaper. Unlike the old days of papering a whole room in large florals, homebuyers are choosing to paper one accent wall with a cloth texture, bold pattern or even material with metallic thread.
Designers add interest with dark colors. For example, the study in the McLean model home is painted Sherwin Williams Rosemary (SW 1687), which is a very dark green, and decorated with navy accents. The dining room is painted a neutral color below the chair rail and Sherwin Williams Cast Iron (SW 6202), which is actually a dark green/black, above.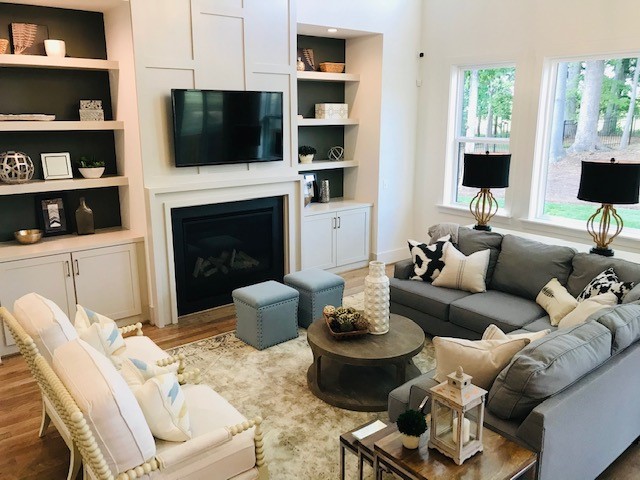 Designer Details Complete the Look of the Home
They say the devil is in the details, and the same is true for home design. Homeowners often don't think about it until they walk into a design consultation, but there are metals in every room – from light fixtures to doorknobs to faucets to drawer pulls.
Brushed gold and black hardware are popular choices currently, but don't feel stuck. More homeowners mix metals, so you may see both satin nickel and satin brass in the same home. Other popular combinations are gold and silver, gold and black, or silver and brass.
If you choose just one metal, Hickman says matte black is definitely trending, for everything from faucets to light fixtures to door and cabinet hardware.
Don't forget the details of fireplaces, too. In the past the standard fireplace had a white mantel with two white legs. Designers now surround fireplaces with heavy millwork and custom trim, such as a pattern of judges panels leading from the mantel to the ceiling.
If you're buying a new home and all of the choices seem overwhelming, there's no need to fret. Peachtree Residential's Design Experts will guide you through the selections to help you create the home of your dreams. To learn more about hot design trends, visit https://www.peachtreeresidential.com/design-gallery/ today.
07.13.2021