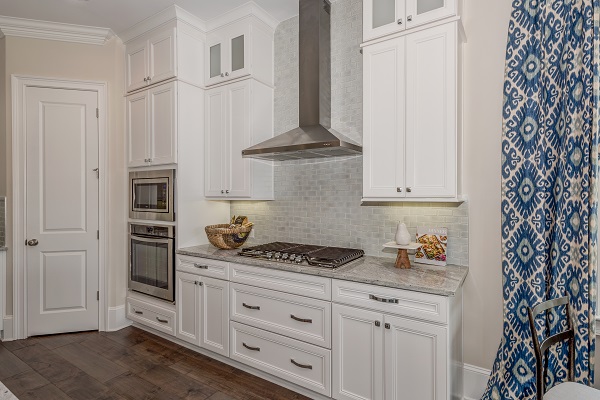 Dreaming about the perfect home design?  Spending lots of time checking out the hardwood flooring at friends' homes? Did you spot the perfect light fixture at a model home or fall in love with the marbling in the granite countertops at the last home you toured?
Peachtree Residential invites you to stop dreaming and start living in the home you've always wanted! The builder is offering a $10,000 design studio allowance available on new homes in Garden Park, a gated community of 28 modern farmhouse homes in West Forsyth. Garden Park homes are priced from the high $500,000s to the mid $700,000s.
Even without adding any extras, Garden Park homebuyers are already falling in love with Peachtree Residential's modern updates to the classic American farmhouse, inside and out. Traditional farmhouse woods and finishes are updated with contemporary, clean lines and open floorplans for living that marries today's favorite styles with a look reminiscent of an old-fashioned homeplace.
The $10,000 allowance will help buyers choose among those favorite styles and add a little flair to match their own personalities.  Each buyer receives a personal consultation with an interior designer on the Peachtree Residential Professional Design Services team. At the consultation, the designer will help buyers spend their allowance on builder options such as upgraded flooring, countertops, lighting, cabinetry, plumbing and light fixtures, and more.
And what's the style right now? The Professional Design Services team reports that many homebuyers are choosing to finish their homes with light or raw wood floors and contemporary tiles with clean lines that complement the simple lines of the homes' other components. They tend toward white or neutral colors, such as a gray or oatmeal that stays in the background against deep accent colors. Brushed gold and black hardware are popular choices right now, as are classic styles that can easily be updated with changing trends.
Just like the finishes selected in the design center, the Garden Park floorplans themselves offer home buyers lots of choices. The wide array of available plans includes two of Peachtree Residential's most popular two-story plans, the Tiburon and Chatsworth. Both have the owner's suite on the main floor, plus a second bedroom that can be used as a flexible space for a home office, kids' homeschooling, or hobby room.
Another plan, the Chelsea, offers flexible loft space on the second floor, while many plans offer different configurations that allow for varying numbers of bedrooms and bathrooms. Buyers are bound to find a plan that offers their most sought-after features, including covered outdoor living areas, three-car garages, basements, and large open designs perfect for entertaining.
Garden Park is convenient to major highways for workweek commutes and is close to the shopping and dining you need for everyday living. For weekend fun, the community is just a short drive from Lake Lanier, promising lots of lazy days spent on the water. When families want to spend time in the neighborhood, a community firepit promises to bring families and neighbors together, with stories shared over flickering flames and roasted marshmallows.
To learn more about the $10,000 home design studio allowance and incredible homes and lifestyle in Cumming's Garden Park, visit www.peachtreeresidential.com/communities/garden-park or contact Agent Don Lee at 770-630-4893.
05.23.2021