01.15.2013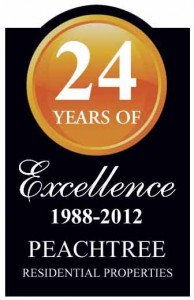 Real estate is heavily impacted by the laws of supply & demand plus a few other factors like mortgage rates and the economy. The "for sale" inventory across most markets is low. Desirable properties that are good values are selling quickly and some even with  multiple offers. 
Peachtree Residential Properties was founded over 24 years ago on the commitment to building quality homes with meticulous craftsmanship, custom designs, and the thoughtful touches that add to the homeowners' quality of life . Today, Peachtree is thriving and has inventory homes ready now and several underway in great North Atlanta locations.  New luxury townhomes will be under construction soon in downtown Alpharetta.  Single family new homes in Cumming, Johns Creek, Roswell, Peachtree Corners and Fayetteville are ready now and several are under construction. 
Here are the top 10 reasons for strong demand for homes in the Greater Metro Atlanta area per Prudential Georgia Realty:
10. Improving Georgia Economy: The Georgia economy will outperform the national economy in 2013. That has not been the case in the past 4 years. An improving economy drives consumer confidence and people buy more houses!
9. More Jobs In Georgia: After losing 325,000 jobs from 2009-2011, employment in Georgia is growing again. In 2013, analysts predict that Georgia will add 53,000 new jobs. More jobs mean more home purchases!
8. Companies Moving To Georgia: Major corporations are moving to our area to take advantage of great deals on commercial real estate, the low cost of living, our powerful transportation network (rail, shipping, trucking and airport) and economic development incentives. Big names like Porsche and Baxter have already announced thousands of new jobs and there are more to come. Relocating employees buy more homes!
7. New Residents Relocating To Georgia: New residents are moving to our area in larger numbers. In 2013, net in-migration will add 61,000 new residents to our area which is more than double recent years. The migration patterns from the Rustbelt to the Sunbelt are coming back and Georgia will benefit.
6. Baby Boomers Moving To Georgia: The Metro Atlanta area is home to one of the largest populations of young people of any major metro area. Atlanta ranks #2 in 25-39 age group and #5 in population under 20. There is a huge trend of boomers moving to be closer to their children and grandchildren. Baby boomers are already the 2nd largest group of home buyers in our market!
5. Increase In Household Formation: Household formation is back to levels not seen since the 1940s. More young people have been forced to rent. Some have joined their families in multi-generational living. Others have been through a short sale or foreclosure and are rebuilding their credit. Based upon the normal household formation trends, we should see household formation double in the next few years. First time buyers are the largest segment of home buyers in our area.
4. Exceptional Home Affordability: The Case-Shiller Index reports that home values increased 9. 87% in 2012 but are still down 29.86% from the peak of 2007. Home prices are still very affordable in our area but these conditions will not last forever.
3. Low Mortgage Rates: Mortgage rates remain at the lowest levels ever recorded.
2. Investors: Investors have been very active in our market. There are some very large investment funds and many small investors working hard to find rentable single family homes in the right areas and right price ranges. Desirable properties in the $50,000 to $200,000 price ranges are getting dozens of offers as soon as they hit the market. Investors see the opportunity and are buying aggressively now!
1. Atlanta is a Great Place to Live, Work and Play! We live in a wonderful area with so many advantages.  More people realize that the Greater Metro Atlanta area is a great place to live, has a vibrant pro-business economy and lots of fun activities to enjoy.
02.21.2012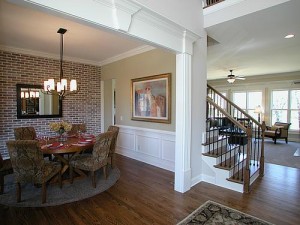 Top 10 wealthiest Georgia communities with income over $150,000 include several cities that Peachtree Residential Propertities builds in! 
The top 10 communities per the Atlanta Business Chronicle include: Berkeley Lake-41%, Milton-36%, Johns Creek-30%, Skidaway Island-27%, Dunwoody-26%, Druid Hills-26%, Sandy Springs-25%, Alpharetta-23%, Roswell-22%, Peachtree City-21%.  Of those top 10 communities Peachtree Residential builds in four of those communities including Alpharetta, Johns Creek, Milton, and Roswell.   Visit our website for information on these communities we currently have available.  We build single family home and upscale gorgeous brick townhomes in the mentioned cities priced from the $300 – to a Million.  Peachtree Residential has been building almost 24 years as a luxury builder of Atlanta new homes.  We have always cared about our customers and their comfort throughout the building process. It shows in our courteous sales managers and project managers. We are committed to a policy of full customer satisfaction before closing on a home. Our stellar reputation for proactive, high touch warranty work gives our customers the confidence they deserve.  Call any of our sales managers for details or contact Katie for further information.  770-622-2522 info@peachtreeres.com
08.16.2011
CNN/Money's Les Christie: "According to real estate web site Trulia, buying was cheaper than renting in 74% of the country's 50 largest cities in July. In just 12% of the cities, including New York, Seattle and San Francisco, renting was cheaper. In the remaining 14% of cities, renting was less expensive but close to the cost of buying."
Several people must think that buying is the way to go before prices increase and inventory homes are gone!  Sales are on the rise at Peachtree Residential.  Windfaire in Roswell has new homes priced from the high $700's and two homes recently sold.  There is one inventory home still ready for your family and other homes that are underway.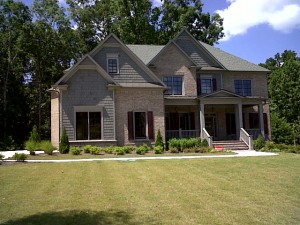 Roswell has so much to offer and is a great location convenient to so many places.  Roswell has great restaurants, culinary delights to fantastic shops and outstanding public and private schools!  Roswell promotes it being a Live, Work or Visit place and has it's own website at www.finditallroswell.com .  Numerous fun attractions are the home to Roswell as well.  Some attractions in Roswell include: Historic home tours, Chattahoochee Nature Center, Award winning parks, Chattahoochee River adventures (rafting, canoe, kayak, tubing), walking tours and ghost walks, arts galore, bicycle friendly community and year round events!
 When visiting Roswell be sure to stop by and visit Windfaire, a new home community built by Peachtree Residential that is a tucked away gem in Roswell.  Windfaire offers just 38 estate-sized wooded home sites in the highly desirable Roswell area.  Only 2 miles from GA 400 off Holcolmb Bridge Rd., Windfaire is privately tucked at the edge of an already established community with swim/tennis facilities available.  The established new home community offers spacious, side-entry home designs with outstanding opportunities for Peachtree tailoring!