09.11.2014
Although Peachtree Residential Properties continues to change and grow, one thing that remains constant is the commitment to quality new homes in North Atlanta and Charlotte. Innovative designs, quality craftsmanship, and superior service have resulted in thousands of satisfied homeowners.  Stop by one of Peachtree Residential's many communities to see our new homes ready to close!  Luxury news homes available in great North Atlanta locations with fabulous schools that you will love to call home!
02.05.2013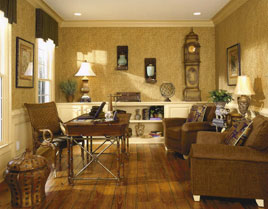 One of the most exciting things about building a new home is decorating the interior.  Once again, Peachtree Residential Properties is right there with you, helping you every step of the way in our luxury North Atlanta communities!  Our Professional Design Services provide you with all sorts of inspiring choices – from carpet and tile to counter tops, appliances and more.  And these selections come with professional assistance, too.   Every new homeowner receives personal consultations with Peachtree's expert interior designers at the Peachtree Design Center by CherryThorne.  Here, you receive focused, individual assistance in selecting flooring, cabinetry, fixtures, appliances, paint colors, counter tops and countless other dream home features.   
Peachtree Design Center by CherryThorne offers trends for 2013
Natural- earthy, tones of blues and greens, yellow is back, patterns
Color is important, neutral canvas with bright bursts of color
Canvas should be crisp, clean, simple- can be used for the longevity of things with your surroundings being able to be changed
Everyone needs a little individuality, find something unique that you like that is special to you to work into your space
Pattern is huge and so is wallpaper- it's back- not in the same way as 1990, but in terms of modern patterns and textures
Reclaimed and recycled materials, re-use and repurpose of things, limit the waste and try and re-invent your furnishings and decor when applicable
Rich, tactile, textures
Every space has a purpose, not just a bunch of empty rooms unused, everything is comfortable and makes sense for your family
01.15.2013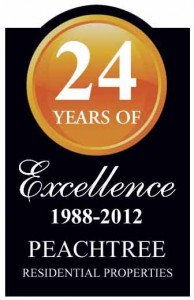 Real estate is heavily impacted by the laws of supply & demand plus a few other factors like mortgage rates and the economy. The "for sale" inventory across most markets is low. Desirable properties that are good values are selling quickly and some even with  multiple offers. 
Peachtree Residential Properties was founded over 24 years ago on the commitment to building quality homes with meticulous craftsmanship, custom designs, and the thoughtful touches that add to the homeowners' quality of life . Today, Peachtree is thriving and has inventory homes ready now and several underway in great North Atlanta locations.  New luxury townhomes will be under construction soon in downtown Alpharetta.  Single family new homes in Cumming, Johns Creek, Roswell, Peachtree Corners and Fayetteville are ready now and several are under construction. 
Here are the top 10 reasons for strong demand for homes in the Greater Metro Atlanta area per Prudential Georgia Realty:
10. Improving Georgia Economy: The Georgia economy will outperform the national economy in 2013. That has not been the case in the past 4 years. An improving economy drives consumer confidence and people buy more houses!
9. More Jobs In Georgia: After losing 325,000 jobs from 2009-2011, employment in Georgia is growing again. In 2013, analysts predict that Georgia will add 53,000 new jobs. More jobs mean more home purchases!
8. Companies Moving To Georgia: Major corporations are moving to our area to take advantage of great deals on commercial real estate, the low cost of living, our powerful transportation network (rail, shipping, trucking and airport) and economic development incentives. Big names like Porsche and Baxter have already announced thousands of new jobs and there are more to come. Relocating employees buy more homes!
7. New Residents Relocating To Georgia: New residents are moving to our area in larger numbers. In 2013, net in-migration will add 61,000 new residents to our area which is more than double recent years. The migration patterns from the Rustbelt to the Sunbelt are coming back and Georgia will benefit.
6. Baby Boomers Moving To Georgia: The Metro Atlanta area is home to one of the largest populations of young people of any major metro area. Atlanta ranks #2 in 25-39 age group and #5 in population under 20. There is a huge trend of boomers moving to be closer to their children and grandchildren. Baby boomers are already the 2nd largest group of home buyers in our market!
5. Increase In Household Formation: Household formation is back to levels not seen since the 1940s. More young people have been forced to rent. Some have joined their families in multi-generational living. Others have been through a short sale or foreclosure and are rebuilding their credit. Based upon the normal household formation trends, we should see household formation double in the next few years. First time buyers are the largest segment of home buyers in our area.
4. Exceptional Home Affordability: The Case-Shiller Index reports that home values increased 9. 87% in 2012 but are still down 29.86% from the peak of 2007. Home prices are still very affordable in our area but these conditions will not last forever.
3. Low Mortgage Rates: Mortgage rates remain at the lowest levels ever recorded.
2. Investors: Investors have been very active in our market. There are some very large investment funds and many small investors working hard to find rentable single family homes in the right areas and right price ranges. Desirable properties in the $50,000 to $200,000 price ranges are getting dozens of offers as soon as they hit the market. Investors see the opportunity and are buying aggressively now!
1. Atlanta is a Great Place to Live, Work and Play! We live in a wonderful area with so many advantages.  More people realize that the Greater Metro Atlanta area is a great place to live, has a vibrant pro-business economy and lots of fun activities to enjoy.