10.24.2018
Peachtree Residential is offering a free 3 hour Continuing Education class on November 7th, 10am-1pm at St Michaels Bay neighborhood in Cumming. It is a gated new home neighborhood on Lake Lanier.  Juanita Mcdowell from Inmotion will teach a new popular topic: Google World for Real Estate Agents.  Lunch will be provided as well  raffle drawings.  This class is sponsored by Peachtree Residential and Jeff Ruehman with Fidelity Bank Mortgage. Please RSVP to info@peachtreeres.com.  There is limited space for this class at the decorated model home.  Learn more about Peachtree Residential here or St Michaels Bay.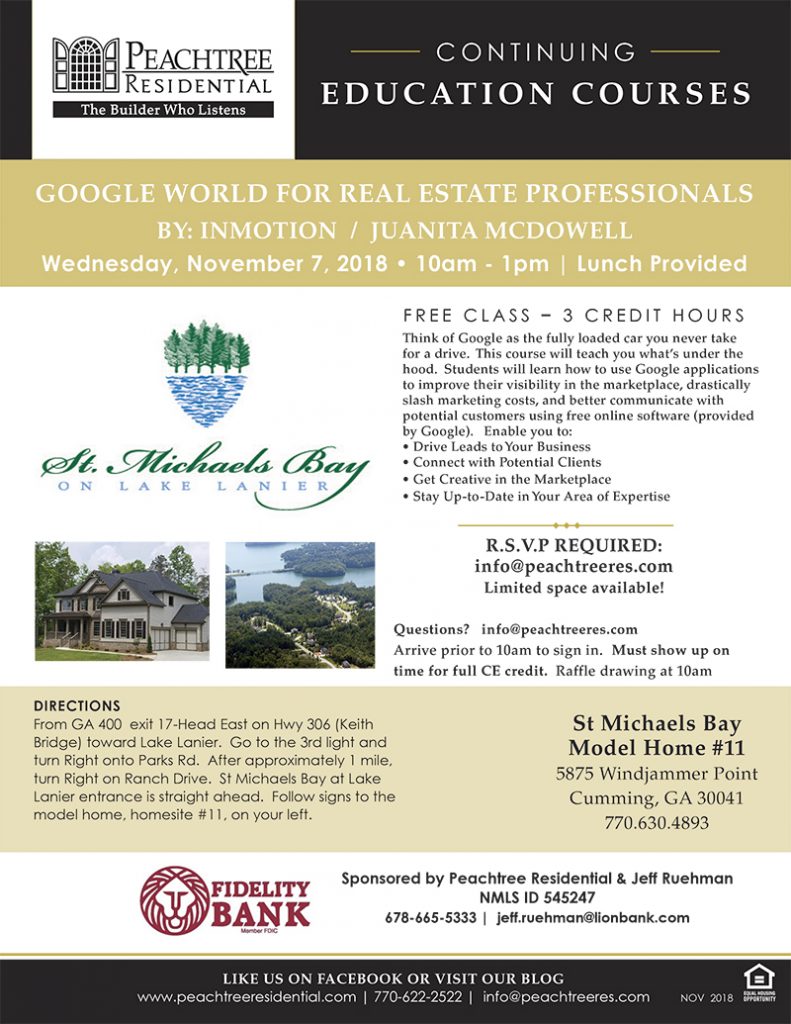 03.10.2014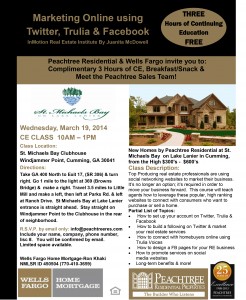 Are you a Real Estate agent and need CE credits?  Whether you want to learn more about online marketing or need CE credits for your Real Estate license then this is the perfect class for you!  The class will be hosted at Peachtree Residential's gated new home community at St. Michaels Bay  on Lake Lanier by Wells Fargo- Ron Khaki.  The class is Wed., March 19th, 10am-1pm at the St. Michaels Bay clubhouse.  "Marketing Online using Twitter, Trulia, & Facebook" by Juanita McDowell.  There will be a light breakfast and snacks served.  Parking available around the clubhouse in the rear of the neighborhood.  Windjammer Point, Cumming 30041.  RSVP to info@peachtreeres.com with your name, email, phone number and license number.   Sign up quickly…limited space!
Directions: Detour on Parks Road 3/10/14 – 4/20/14) So please go this way:
From GA 400  exit 17-Head East on
Hwy 306 (Keith Bridge) toward Lake Lanier.  Go to the 3rd light and turn Right
onto Parks Rd.  After approximately 1 mile, turn Right on Ranch Drive.  St
Michaels Bay at Lake Lanier entrance is straight ahead.
Feel free to stop by our decorated model home at the entrance after the class!