07.31.2015
Peachtree Residential offers a three hour free CE class at the brand new, Hadley Walk, decorated model home in East Cobb.  The class is 10am-1pm, and Peachtree Residential will provide breakfast and prizes in addition to the 3 hours of free continuing education.  Wells Fargo, Ron Kahki, will co-sponsor this class with Peachtree Residential.   The three hour CE class is taught by Juanita McDowell on" Tighten it Up! Data Security, Privacy & Safety".  The perfect chance to learn and see the BRAND NEW DECORATED MODEL HOME in East Cobb at Hadley Walk! RSVP required to info@peachtreeres.com with your name, email, phone number, license number and company.
 The class includes: Latest Scams to Hit Real Estate Agents and Real Estate Firms Across the Country
-Why You Should Avoid Using a Free Wi-Fi Network
-The Dangers of Publishing Your Personal Cell Phone Number
-Tech Talk – Digital Safety for Agents (Using wearable technology and apps to stay safe)
-How to Send an Encrypted Email to Your RE Client in Outlook and Gmail Free Apps are Never Free
-The Weakest Link in Your Security Chain is…
– How to Hack into a Mobile Phone in Under 2 Minutes – Watch me!
-How to Know When Your Cell Phone has been Hacked
-Press the Button – An Alternative to Using a Safety App
Check out the new decorated model at Hadley Walk here or on TV Sunday on Atlanta's Best New Homes TV!
A must see! https://youtu.be/VmyKLloCc68
04.10.2015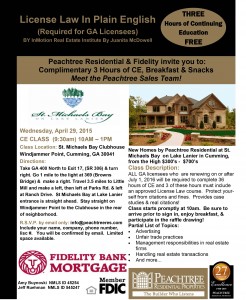 Be sure to sign up for the FREE 3 HOUR CE class on April 29th for Real Estate agents!  The class will be hosted in the beautiful St. Michael's Bay neighborhood clubhouse on Lake Lanier in Forsyth county.  Class will start promptly at 10am-1pm.  Please join us before for breakfast, sign-in and raffle as of  9:30am.  After the CE class you are welcome to tour our decorated model home and inventory homes that are READY NOW!  Our lender, Fidelity Bank Mortgage is the co-sponsor of this CE class.  The class is on GA License Law which is a required class taught by In-Motion.  Please RSVP to info@peachtreeres.com with your name, real estate license number, email and phone number.  Limited space, so RSVP soon!