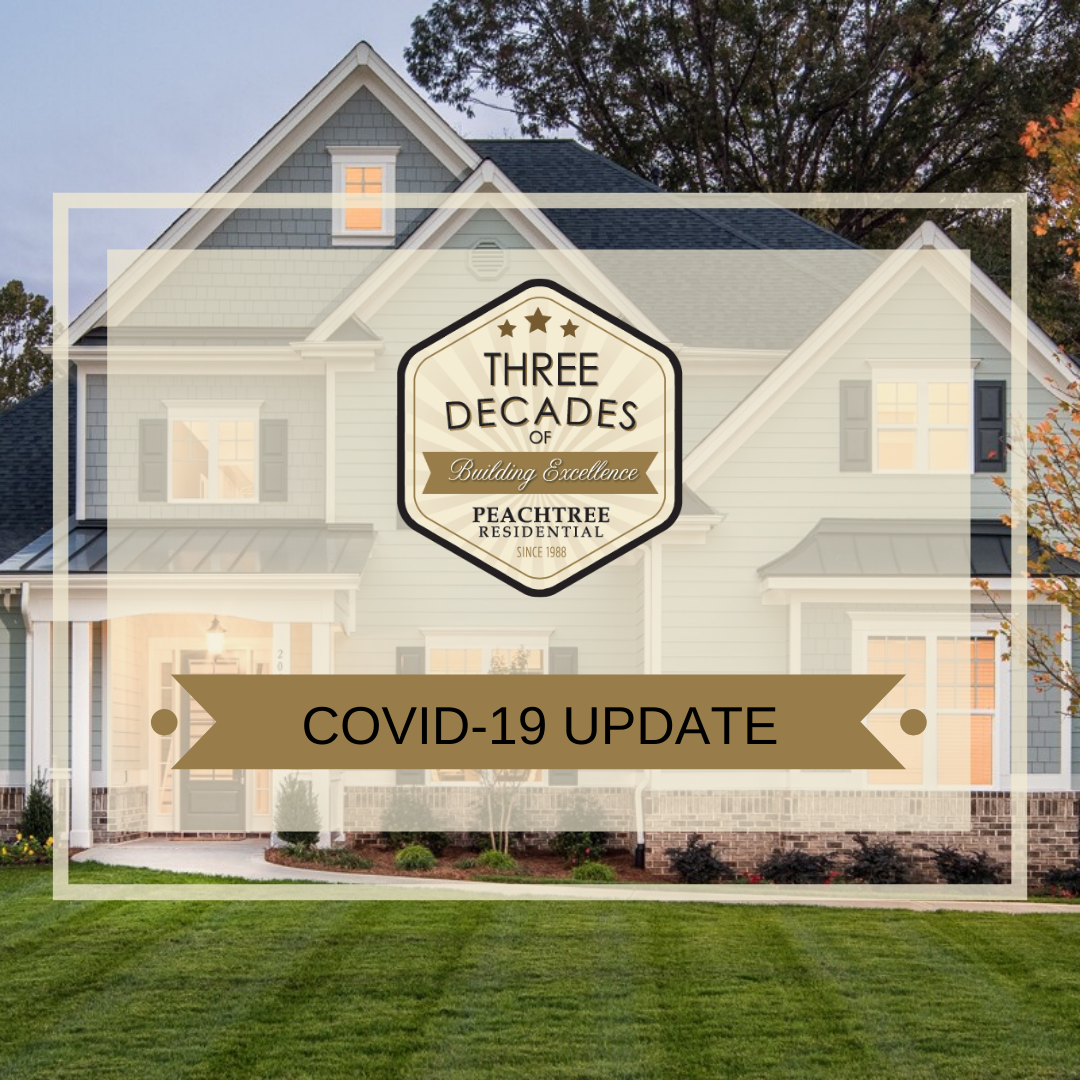 Dear Peachtree Friends,
Our hearts and thoughts go out to the families affected by Coronavirus (COVID-19). We also want to express great appreciation for all healthcare workers, local officials, and governments around the world working diligently to contain this virus and keep us all informed.
As we continue to receive updated information on COVID-19 from local, state and federal officials, we want you to know that Peachtree is committed to using best practices with regards to the health and safety of our customers, employees and our community. Because we are all so new to this type of situation we refer you to guidelines published by the CDC which are attached to this message. Ultimately we are all responsible to ourselves and to each other to practice the guidelines and to use common sense facing this challenge.
We want you to rest assured that our inventory and Model homes are open and that our associates are available and ready to help with any questions you may have about a current or future Peachtree Residential purchase.  As you visit our Model Homes, please limit the visit to no more than four people at a time.
We know that even during these uncertain times, many of you are seeking information on the availability of inventory homes in your area and how you might take advantage of historically low mortgage rates. Right now, we have homes at a range of price points that are move-in-ready, more homes under construction as well as presale opportunities for contracts to build. A list of available homes in Atlanta and Charlotte, as well as contact information for all of our communities, can be found on our website www.peachtreeresidential.com. We are currently scheduling 1:1 appointments and are also happy to conduct virtual appointments with our Community Sales Managers for those who would prefer to have those conversations from the comfort of their own homes.
If you need to visit us at our Main Office, please call ahead.  We are open but on a reduced schedule.
Thank you,
Your Friends at Peachtree Residential
www.cdc.gov/coronavirus/2019-ncov/specific-groups/high-risk-complications.html
www.cdc.gov/coronavirus/2019-ncov/prepare/cleaning-disinfection.html
03.20.2020