03.17.2017
Exciting news is happening at Peachtree Residential.  Next Tuesday, March 21st , 11am-6pm, we will be having a Grand Opening Event showcasing our two beautiful new Peachtree Corners communities.  There will be a $500 American Express gift card drawing, complementary food trucks for lunch (11am-2pm) and refreshments.
Our Oglethorpe neighborhood will be home for 19 families seeking a convenient location, the security of a gated community, and some spectacular new single family floor plans.  With both master up and master down plans, this neighborhood also includes yard maintenance for a carefree lifestyle.  We have three inventory homes nearly finished as well as a professionally decorated model home.
Duke Reserve will also afford a great Peachtree Corners location to 25 lucky homeowners.  Duke Reserve provides the comfort of a gated townhome neighborhood with the ability to live a lifestyle free of maintenance.  All of this while enjoying the many comforts of these three brand new floorplans, including a first floor master design.  Our furnished model will be opening in early April but we currently have three homes ready for immediate occupancy and three more that can close in April.
We truly hope you are able to join us next Tuesday and see for yourself what all the excitement is about!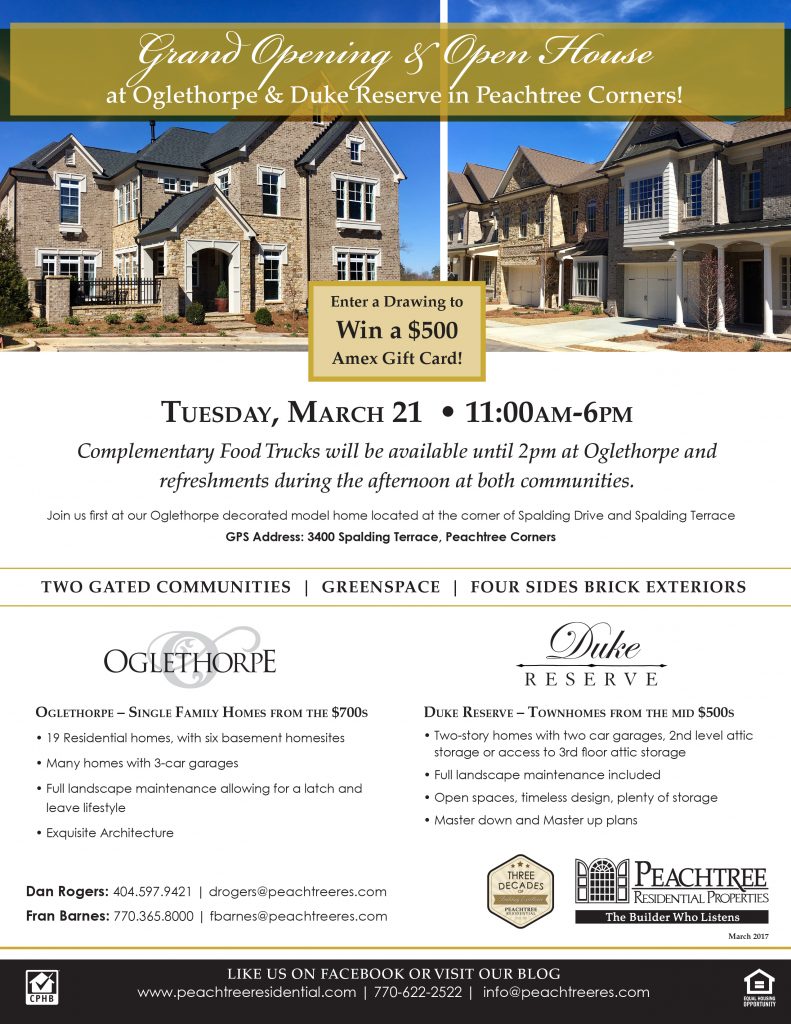 02.17.2017
Spring is in the air and the housing market is expected to set a few trends in 2017 as Bill Rawlings talks about in his article in the Milton Herald. Although the interest rates are expected to rise slightly it's still a great time to invest in real estate compared to the past. With mortgage rates increasing 4.15%in mid-December 2016 this allows mortgage credit to be more widely available due to lending standards being loosened. In turn this will allow first-time homebuyers lower fees. The wish for a new home is creating a positive impact for new construction, which is expected to rise throughout 2017. Foreign buyers, due to their outstanding budgets have become one of the strongest buying groups. The National Association of Realtors reported buyers purchased over $102 billion in residential real estate in the United States. Peachtree Residential Properties has over 20 new developments to chose from for your housing needs.  Visit the Peachtree Residential website to see all the move-in ready homes for this spring.  Peachtree has several neighborhoods in the Milton and Alpharetta area.  Canton Street Commons in downtown Alpharetta is coming soon as well!  Peachtree Residential will be celebrating 29 years of building new homes in Atlanta and Charlotte in May.
07.19.2016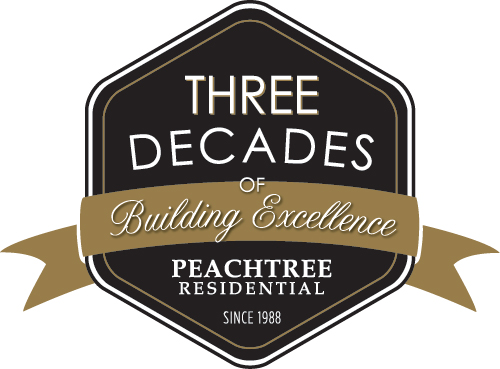 Peachtree Residential has been building new homes in Atlanta and Charlotte for three decades.  We have several new communities on the way and just closed out Trilogy Park in Hoschton this week!  Stay turned for new communities coming soon!  Email info@peachtreeres.com to be added to our VIP list for  Canton Street Commons neighborhood in Alpharetta.  We are just beginning to build two new communities in Peachtree Corners: Oglethorpe & Duke Reserve!  Visit http://www.peachtreeresidential.com/new-homes/atlanta-georgia/ to see all of our current communities in Atlanta!  Email your resume to info@peachtreeres.com or apply here if you are interested in joining our team as a Sales Agent or Project Manager.