06.19.2012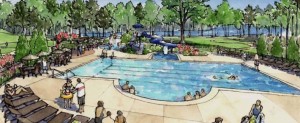 Just in time for SUMMER since tomorrow is the first day of summer!  The Canoe Club officially opened a four-lane community pool at the beginning of June. The pool joins a 5,500-square-foot designer decorated clubhouse with multiple gathering rooms and a fully-equipped fitness center, all overlooking 52 acres of shimmering lakes.  Canoe Club is located just 15 miles south of Atlanta's city limits in Fayetteville.  The Canoe Club features two pristine lakes perfect for canoeing, fishing and kayaking. Peachtree Residential Properties offers spacious home designs at The Canoe Club with rich architectural detail and countless opportunities for "Peachtree Tailoring" your home to your personal style!  52 acres of water + 58 acres of greenspace + 12 acres of activity = Endless possibilities! To learn about more of the fabulous amenities visit the Canoe Club website or the Peachtree Residential website. 
Sales Manager, Elaine White just SOLD the model home at Canoe Club and has two homes underway that will be ready this summer!  Call Elaine for more information on these single family new homes from $349,900.  Peachtree Residential is also offering $5,000 in Designer Options at Peachtree Design Center on pre-sales this month! See Elaine White for details. Contact Elaine at 770-616-4483 or Canoeclub@peachtreeresidential.com
07.07.2011

Do you enjoy spending your vacations near the lake? If so, how would you like to enjoy lakeside living year-round? Peachtree Residential is building a model and two beautiful new homes in Fayetteville, Ga., at The Canoe Club. There are several  homesites to choose from and build your dream home.  This Reynolds Signature Community encompasses 600 acres of beautiful scenery located just 15 miles south of Atlanta's city limits. The centerpiece of this community is two pristine lakes surrounded by acres of open space.
Peachtree Residential Properties offers spacious home designs at The Canoe Club with rich architectural detail and countless opportunities for "Peachtree Tailoring" your home to your personal style! Peachtree Residential offers 10 floor plans and 18 elevations at The Canoe Club . The homes are built to meet the needs of today's families and have several energy-efficient features inside each home. 350 families will have the opportunity to call The Canoe Club their home. Will you be one of them? Call Elaine for more information: 770-616-4483. (more…)