11.07.2018
Looking for a new home?  Consider several benefits that buying a new home has over a resale. Peachtree Residential builds new homes in great neighborhood locations.  Peachtree has been building new homes for over 30 years. When you buy a new home everything is brand new and uniquely yours.  You have the option to select your floor plan and personalize your home to meet your needs. New homes typically have a better HERS rating and your utility bills will be lower. Peachtree Residential new homes also come with a ten year structural warranty.  Learn more about Peachtree Residential new homes on line at http://www.peachtreeresidential.com/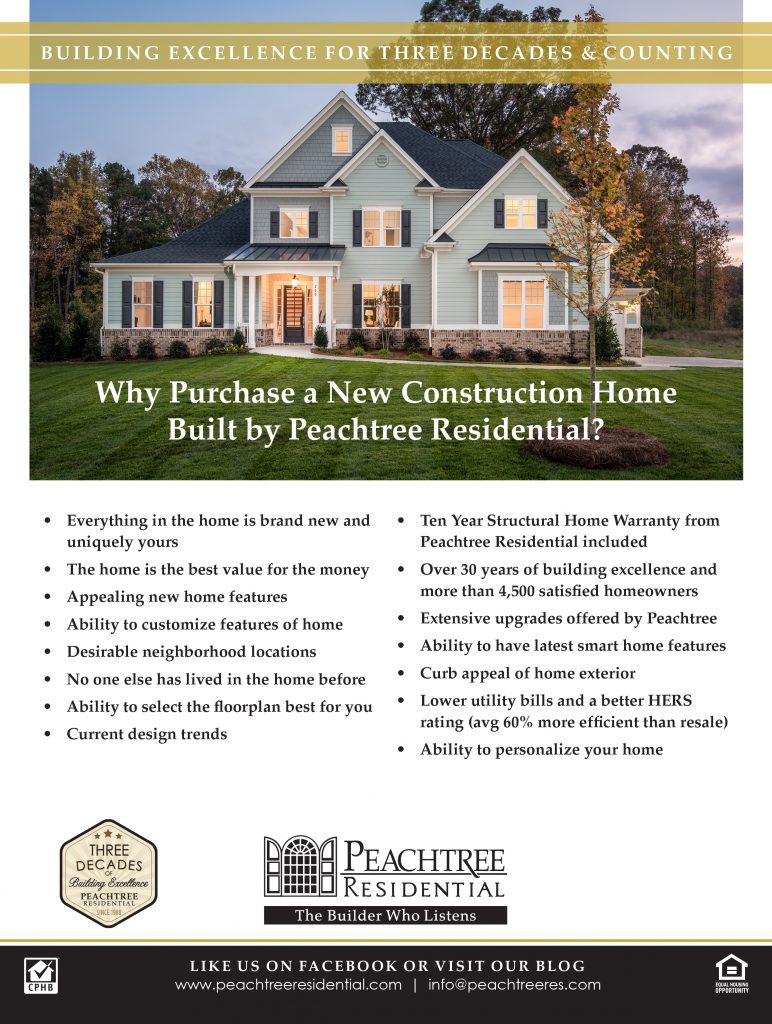 02.10.2012

For more then 23 years, Peachtree Residential has been building new quality built homes!  We know you put your heart and soul into your home and it is your biggest investment!  Peachtree Residential understands that and wants you to be 100% satisfied!  Your new home will hold memories and milestones.  After you purchase a Peachtree home, you can rest assure that we built a quality home with top-notch materials and trusted name brands.  Peachtree is building several pre-sales for customers throughout North Atlanta.  On pre-sales we have 6 customer meetings for the buyer to rest assure it will be a smooth building process.  No matter if your purchase is a pre-sale or a move-in ready home, Peachtree Residential stands behind their homes! Peachtree Residential offers the following in all their communites throughout North Atlanta priced from the mid $200's to a million:
Superior Quality: Our homes include an unparalleled level of craftsmanship, and fit & finish that is evident in every home we build.  You will notice "The Peachtree Difference" immediately. Our Certified Professional Home Builder status, Foundation-to-Rooftop Quality Control Process, and Ten-Year Structural Warranty give you the confidence that we stand behind every home. Superior quality is our personal guarantee!
Expert Experience: Peachtree Residential has been building quality homes locally in Atlanta since 1988.  Our  impeccable reputation and unsurpassed integrity over the past 23 years offer you peace of mind that you are choosing a builder you can count on. 
Exceptional Customer Service: Our sales and project management team is with you throughout the entire process, and our six customer-centric meetings and 100% sign-off process ensure that your needs and expectations are exceeded. Customer satisfaction is our top priority, resulting in 97% of our homeowners unequivocally recommending Peachtree Residential Properties. Exceptional service is our personal guarantee!
"The Builder Who Listens": We listen and respond to your needs, creating and building a one-of-a-kind dream home that is "Peachtree Tailored" to your personal style.
Genuine Authenticity: Our home designs include classic, timeless and traditional appeal and our use of genuine, authentic materials inside and out truly stand the test of time and protect your investment.

Visit www.peachtreeresidential.com for more information on our neighborhoods. 
01.19.2011
Peachtree Residential Properties, one of Atlanta's premier homebuilders celebrates its 23rd year of building homes. Although Peachtree Residential Properties continues to change and grow, one thing that remains constant is our commitment to quality. Every home is required to meet our "Foundation to Rooftop" Gold Standard of Approval. Excellence is something that will never change at Peachtree Residential. We offer design flexibility and "Peachtree Tailoring," enabling every home to be personalized to the family that will live in it. Our top priority is complete customer satisfaction and a home that is unsurpassed in quality. Almost 100 percent of Peachtree Residential home owners would recommend Peachtree Residential to a friend or family member and buy another Peachtree Residential home.
Visit peachtreeresidential.com to begin viewing your next new home and find out why Peachtree Residential is an exceptional builder that is top notch compared to others! Peachtree Residential is building new homes in phenomenal locations that include Alpharetta, Cumming, Roswell, Johns Creek, and Milton to name a few.